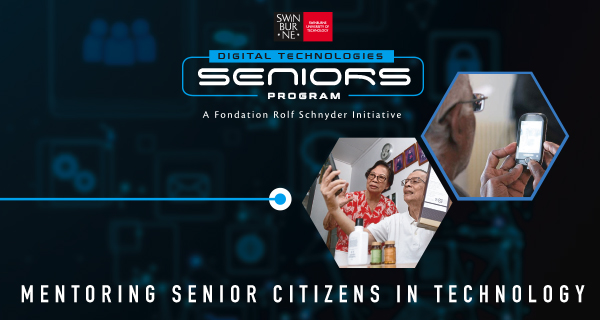 Introducing : The Digital Technologies Seniors Program (DTSP)
Senior citizens in a digital world can be easily overwhelmed by all the technical advances in technology, be it smartphones or tablets that facilitate social media, online banking, online shopping etc as well as the dangers of online scams.
For this reason, the Digital Technologies Seniors Program was developed by the students of Swinburne University of Technology Sarawak Campus and Fondation Rolf Schnyder. Each module of this community initiative was designed and developed by the Swinburne students, their mentors and the program developers at Fondation Rolf Schnyder.
The main objective of this program is to mobilise students to mentor senior citizens in technology, narrow the generational gap and to vice versa. This will also give the seniors an opportunity to connect with the students and potentially have reciprocal life lesson mentorship to the students. Students will also learn life skills of empathy and leadership through this program. As the program engages students to develop the modules and to conduct the coaching sessions for the seniors, the students will develop ownership of the program. It is envisioned that the students will train other trainers and thus, create a sustainable program to benefit the community of Sarawak.
It has been long noted that senior citizens are mostly neglected user group in design of mobile devices and services, although the requirements to create well-functioning solution for them are very well known. People over the age of 60 use mobile phones for very limited purposes, such as for calling or sms in emergency situations .
As of 2020, the Department of Statistics Malaysia recorded that 10.7 per cent of the Malaysia population was made up of those aged 60 and above, amounting to some 3.5 million people.
The Malaysian Communications And Multimedia Commission in its Internet Users Survey 2020 report showed that 11.3 per cent of Malaysians were non-internet users.
Among those non-internet users, 51.8 per cent were reported to be aged 60 and above. The top reasons given across all age groups for not using the internet were "lack of interest", "too old to learn" and "no device".
Many seniors interviewed have complained that displays on smartphones that are too small and difficult to see, buttons and characters that are too small causing them to push wrong numbers frequently. They also avoid using more complex function, non-user-friendly menu arrangement and unclear instruction on how to find and use a certain function and services that are too expensive. Ease of use and actual need of the services and apps are important criteria.
Smart phones can potentially play an important role in helping older people in many ways if the problems related to the use of mobile phones and apps can be solved, especially for maintaining and developing social relationships. Mobile technology allows not only ubiquitous communications but also anytime access to some services that are vital for elderly peoples security and autonomy. They provide a sense of security and safety for senior citizens as they can be reached practically anytime and anywhere.
Sarawasthy Lechumanan, a senior citizen said she struggles with using the Grab app that handles various things from ride-hailing to food deliveries.
"I don't know how to book a Grab [ride] or order food. I have never done it before and don't have the app either. Also, my phone isn't that good, if I download too many apps there won't be enough space in it," she said.
"Older internet users who have limited technological exposure and experience may find themselves at greater risk of becoming victims of cybercrime, especially fraud and scams, or distributors of misinformation on social media" quoted Rachel Gong, a senior research associate at think tank Khazanah Research Institute focusing on digital policy
This situation has left behind the elderly who are not fully equipped to conduct their lives online unlike generations who grew up with information technology, several advocates of digital inclusivity have shared to media outlets.
"Programmes that help to introduce senior citizens to the use of digital technology is much needed in these times so as to not leave them behind" quoted Sritharan Vellasamy, founder and chief executive of Wordlabs Global Sdn Bhd.
Gong, also espoused the need for education, especially in regards to protecting the elderly from online scams and misinformation.
"So improving not just digital skills – how to use apps, devices and the internet – but also digital literacy – how to evaluate misinformation or how to protect their passwords – would help," she said.
Stay tuned to this space to keep updated on how we assist senior citizens overcome their technological challenges.